Train with Kai IV - ARMS
MuscleMeds' own Adam Paz has worked steadily behind the scences with Kai since bringing him on as their flagship athlete. With a key role to play throughout the filming of the Train With Kai series, he eventually caught the fever himself and requested to be penciled in as the final athlete to be featured in the series for the arms segment.
Comment : Train with Kai IV - ARMS
Other Videos
2012 Lee Priest Best Motivational Video !!
Visit : 862

Greg Plitt : Bedroom Workout - Preview
Visit : 605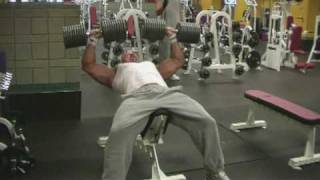 Stan Efferding incline presses 210 pound dumbells for 9 reps
Visit : 690

Branch Warren and Victor Martinez Train Chest
Visit : 1004

ANTOINE VAILLANT - MOVEMBER CHEST WORKOUT
Visit : 1021
Bodybuilding Motivation - Get Out Of The Tube
Visit : 539

Mohamed touri posing routine - World IFBB Bodybuilding championships 2010
Visit : 1453
video.marocbodybuilding.com only house or host any video on its servers, it consists of a listing of links to videos hosted by sites such as public and legal recognition: facebook, Megaupload, Youtube, Dailymotion, Wat, Google Video, Veoh,.... video.marocbodybuilding.com not uploading any videos on hosting platforms